The leading optimization solver for Microsoft Excel®.
XLOPTIM® solves your operational problems by providing the efficiency of LocalSolver's optimization engine directly inside your Excel worksheets.
This no-code AI platform will help you to find powerful solutions in a short amount of time and enhance productivity in decision making scenarios. Furthermore, XLOPTIM® can be used as a primary aide in the education field, especially to easily teach Operations Research and Business Analytics.
Mathematical Optimization and Operational Research make it possible to solve complex and varied problems, arising within the framework of an effective management of organizations:
Dimensioning of the logistic chain
Positioning of commercial or logistic sites in a territory
Scheduling of production tasks in manufacturing workshops
Planning of commercial or distribution tours
Optimization of the energy consumption of a factory or a data center
Replenishment of stocks in the face of variations in demand
Planning of human and material resources
Deployment of a water, electricity or telecommunications network
Planning of advertising campaigns under budget constraints
Pricing for plane tickets, train tickets or hotel rooms
Discover several tutorials to learn how to use XLOPTIM®.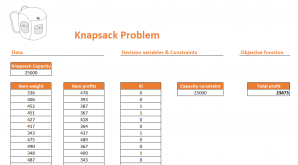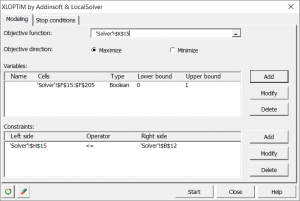 ---
---
XLSTAT is a leader in software for statistical analysis in MS Excel.
Since 1993, we have worked continuously to bring you and some other 100,000 users from more than 120 countries a powerful, versatile, and above all user-friendly and affordable software to meet all of your statistical needs.
Featuring over 240 standard and advanced statistical tools, XLSTAT works as a seamless add-on to MS Excel and Google Sheets (free limited version only), allowing you to easily analyze and reformat your data within Excel.XLSTAT is compatible with both Windows and Mac.
XLSTAT uses pioneering computing techniques so that you get actionable results at unbeatable speeds: parallel computing allows you to take full advantage of all your computer processors.
Today XLSTAT offers a wide variety of industry/field specific solutions designed for each and every one of you.
So make way for a statistical software that will change the way you work.
---