XLSTAT version 2016.5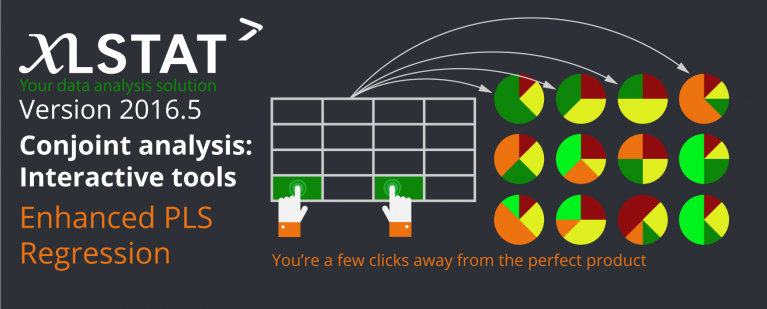 What's new in XLSTAT version 2016.5?
PLS regression: global performance and accuracy have been significantly enhanced. Available in all XLSTAT solutions.
Conjoint Analysis and Choice-Based Conjoint: several options now allow you to manipulate your outputs quicker. New shortcut buttons have been implemented to let you automatically fill in the Conjoint & CBC analysis dialog boxes. Market simulations can now be directly updated when you modify your target product attributes. Available in XLSTAT-Marketing and XLSTAT-Premium.
All XLSTAT statistical guides have been translated into Spanish. The remaining tutorials will be translated by the end of September 2016.
---
Past attendees have come from a wide range of areas: marketing, market research, the entertainment industry, analytic laboratories, sensory science, geology, to name but a few.
Learn the basics of descriptive statistics, multivariate data analysis, tests and modeling with XLSTAT Basic+
Learn the basics of descriptive statistics, multivariate data analysis, tests and modeling with XLSTAT Basic+
---