XLSTAT version 2016.3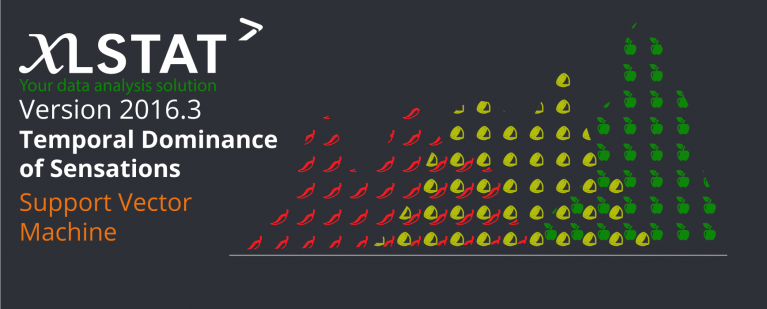 What's new in XLSTAT version 2016.3?
Version 2016.3 includes two highly anticipated features
Support Vector Machine (SVM): This supervised machine learning algorithm strengthens the list of algorithms that are already available in XLSTAT. SVM's are adapted to a wide number of situations, including situations of non-linearity. It is available in all XLSTAT solutions (under the Machine Learning tab).
Temporal Dominance of Sensations (TDS): This feature allows to easily visualize temporal evolution of the dominance of attributes perceived by assessors. It is available in XLSTAT-Sensory, XLSTAT-Marketing and XLSTAT-Premium (under the Sensory data analysis tab).
In addition
We have given a fresh new look to our menus.
Box plots can now be colored by group (all XLSTAT solutions).
---
Learn the basics of descriptive statistics, multivariate data analysis, tests and modeling with XLSTAT Basic+
Learn the basics of descriptive statistics, multivariate data analysis, tests and modeling with XLSTAT Basic+
Learn the basics of descriptive statistics, multivariate data analysis, tests and modeling with XLSTAT Basic+
---