XLSTAT at the #bigdataparis conference, March 7-8, 2016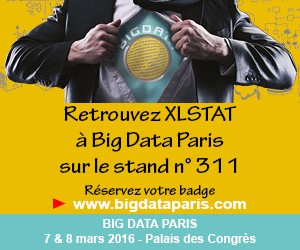 XLSTAT at the Big Data Paris conference, 2016
XLSTAT will be at booth 311 at the Big Data conference in Paris, March 7-8 2016, Palais des Congrès, to present the first prototype of XLSTAT 365, the cloud version of XLSTAT.
We'd be more than happy to welcome you at our booth to show you a demo or simply to chat. Access to the exhibiting hall is free of charge. Subscribe here.
---
Our new version XLSTAT 2019.3.2 is now available. What's new?
XLSTAT will be exhibiting at Research & Results, October 23-24, 2019.
XLSTAT will be present at the 13th Pangborn Sensory Science Symposium, 28 July - 1 August 2019, Edinburgh UK
---