Version 2016.1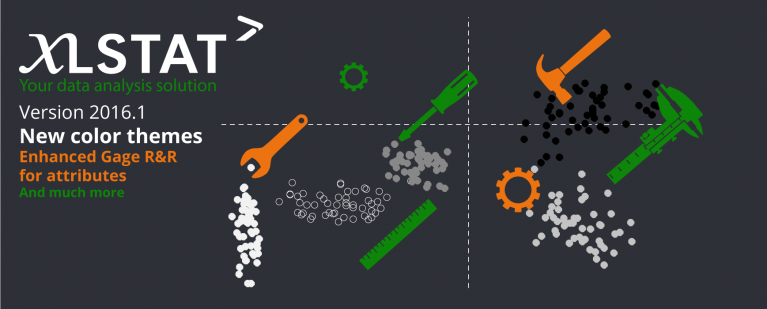 In 2016 XLSTAT will offer more customization options
What if we made your life as a data analyst far easier by making XLSTAT even more customizable? Throughout 2016, one of our main objectives will be to further enhance XLSTAT's customization options. Version 2016.1 is the first step on the path to a truly customizable XLSTAT. Our latest version includes:
New customization features in the options tab: XLSTAT now offers 3 graphical output styles: classic, similar to what you have enjoyed until now, modern with a different set of colors, and scientific with grayscale colors. Want a style of your own? Just let us know! In the next version, we'll make it possible for you to define your own styles...
Data selection from variable labels in normality tests. Help us improve our future versions by sharing your feedback with us and letting us know how data selection types should be implemented in other XLSTAT features.
Check out this video to learn more.
Furthermore, we have worked on major improvements on our Gage R&R for attributes tool which now offers extensive options and outputs. We've also enhanced computation speed in mixed models by orders of magnitudes.
Stay tuned for more exciting news coming your way!
---
Learn the basics of descriptive statistics, multivariate data analysis, tests and modeling with XLSTAT Basic+
Learn the basics of descriptive statistics, multivariate data analysis, tests and modeling with XLSTAT Basic+
Learn the basics of descriptive statistics, multivariate data analysis, tests and modeling with XLSTAT Basic+
---