Addinsoft recrute (janvier 2019) : Développeur .NET (Stage)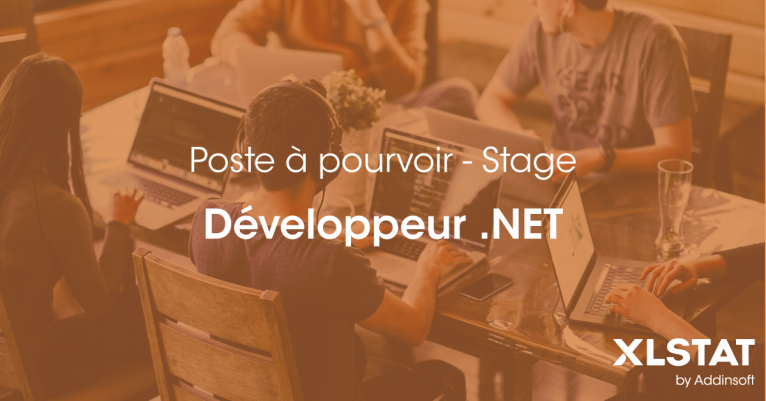 Présentation de l'entreprise
Addinsoft est l'entreprise éditrice du logiciel XLSTAT, le logiciel dédié aux statistiques et à l'analyse de données fonctionnant sous MS Excel. Notre entreprise travaille avec les plus grands noms de l'industrie, les centres de recherche universitaires et les agences gouvernementales : 100 000 utilisateurs recensés en 2017, répartis dans plus de 100 pays. En complément de la solution pour Excel, en client lourd sous Windows et MacOS, Addinsoft développe également une solution en SaaS. Rejoignez notre équipe dynamique et enthousiaste pour participer au développement de la société !
Mission
Votre principal rôle sera de développer un site internet interne permettant d'éditer et de modifier une base de données. Vous aurez à implémenter l'interface graphique, les connexions avec la base de données et un module de représentation graphique pouvant s'associer à du BI. Ce stage vous offre la possibilité d'être autonome face à réel besoin métier et d'être au contact des services d'exploitation.
Objectifs
Développer un site internet
Profil
Bac +3 minimum

VB.Net ou C#.NET

MSSQL serveur et requête SQL

Aptitude à l'écoute, travail en équipe, autonomie

Respect des engagements, attentif aux détails
Modalités de candidature
Veuillez envoyer un CV et une lettre de motivation à rh@xlstat.com en précisant l'intitulé du poste dans l'objet.
Situation géographique
Bordeaux (centre)
Type de contrat
Stage
Date d'embauche envisagée
Dès que possible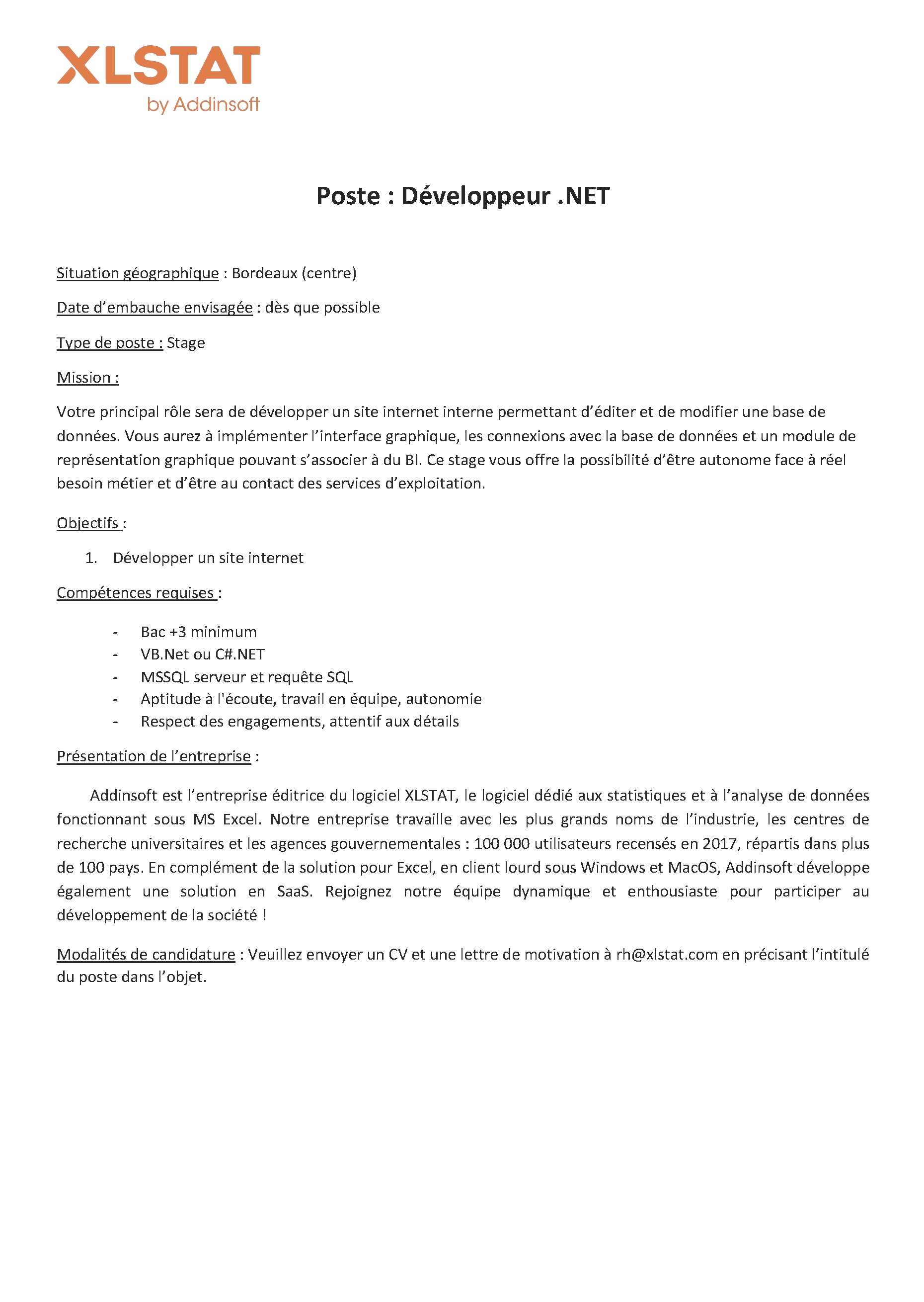 ---
Theory and Practice with XLSTAT Marketing
This module focuses on Analysis of Variance, but this technique makes assumptions about the underlying distributions in our data
This course covers the excellent features in XLSTAT for investigating, visualising and modelling data sets with measurements on many variables.
💡 How is XLSTAT being used in research? In this paper, discover whether and how straw materials could affect sensor… https://t.co/GqKhmO33P3
☕ How can we split a collection of stone fragments into groups of similar pieces using k-means clustering?… https://t.co/HWTEgA4Og9
---