3D visualization
3D visualization is part of:
3DPlot 3-D visualization software

System configuration

Windows:

Versions: 9x/Me/NT/2000/XP/Vista/Win 7/Win 8
Excel: 97 and later
Processor: 32 or 64 bits
Hard disk: 150 Mb
Benefits
Easy and user-friendly

Easy and user-friendly XLSTAT is flawlessly integrated with Microsoft Excel which is the most popular spreadsheet worldwide. This integration makes it one of the simplest available tools to work with as it utilizes the same philosophy as Microsoft Excel. The program is accessible in a dedicated XLSTAT tab. The analyses are grouped into functional menus. The dialog boxes are user-friendly and setting up an analysis is straightforward.

Data and results shared seamlessly

Data and results shared seamlessly One of the greatest advantages of XLSTAT is the way you can share data and results seamlessly. As the results are stored in Microsoft Excel, anyone can access them. There is no need for the receiver to have an XLSTAT license or any additional viewer which makes your team-work easier and more affordable. In addition, results are easily integrable into other Microsoft Office software such as PowerPoint, so that you can create striking presentation in minutes.

Modular

Modular XLSTAT is a modular product. XLSTAT-Pro is a core statistical module of XLSTAT which includes all the mainstream functionalities in statistics and multivariate analysis. More advanced features contained in add-on modules can be added for specific applications. This way you can adapt the software to your needs making the software more cost-efficient.

Didactic

Didactic The results of XLSTAT are organized by analysis and are easy to navigate. Moreover useful information is provided along with the results to assist you in your interpretation.

Affordable

Affordable XLSTAT is a complete and modular analytical solution that can suit any analytical business needs. It is very reasonably priced so that the return of your investment is almost immediate. Any XLSTAT license comes with top level support and assistance.

Accessible - Available in many languages

Accessible - Available in many languages We have ensured XLSTAT is accessible to everyone by making the program available in many languages, including Chinese, English, French, German, Italian, Japanese, Polish, Portuguese and Spanish.

Automatable and customizable

Automatable and customizable Most of the statistical functions available in XLSTAT can be called directly from the Visual Basic window of Microsoft Excel. They can be modified and integrated to more code to fit to the specificity of your domain. Adding tables and plots as well as modifying existing outputs becomes easy. Furthermore, XLSTAT includes some special tools on the dialog boxes to generate automatically the VBA code in order to reproduce your analysis using the VBA editor or to simply load pre-set settings. This effortless automation of routine analysis will be a huge time saver on your part.
Visualisation in three dimensions (3-D)
It is always possible to represent more than two variables in a 2-D graphic. You can do that by playing with the color, shape and size of the elements you represent in a 2-D space. However, it will be more visual to add a third dimension. Simple bar plots or scatter plots gain in depth when adding a third dimension.
The addition of another dimension to a plot also enables you to access new types of plot such as response surfaces. Surface plots are very useful in the context of design of experiment.
What XLSTAT-3DPlot can do:
XLSTAT-3DPlot enables displaying data in 3-D plots with an intuitive interface loading the data directly from Excel, simply by clicking on an icon in the XLSTAT toolbar.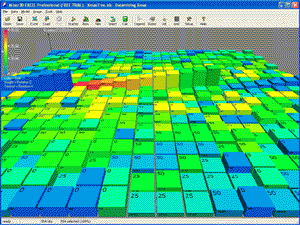 XLSTAT-3DPlot offers a wide variety of plots that you can select to chart your data:
Scatter plot (2- and 3-D)
Bar plot (2- and 3-D)
Line plot
Surface plot
Trellis plot
Heat map
Tile map
It is also possible to shoot a movie of your plots. This way you can record rotations and zooms of your graphics to enlight properties and make stricking presentation of your data.
Creating a graphic with XLSTAT-3DPlot
The process of creating, customizing and analyzing striking 3-D plots with XLSTAT-3DPlot, is simple:
Select the data in Excel,
Select a type of plot, and visualize the data in 2 or 3 dimensions in the XLSTAT-3DPlot interface.
Navigate in the image to discover trends,
Modify the image by adjusting angles, colors and other effects until it fits your needs,
Copy the image to insert it into a document (Word or Excel for example),
Save the visualization if you need to work on it later.
Tutorials
Screenshots